AIMS Login
Shipment Tracking
AAS Warmly Welcomes Nippon Express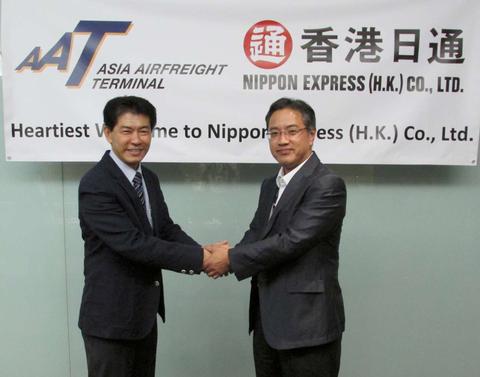 Mr Khaw Hock Eng, General Manager of AAT (left), and Mr Uriuda Yoshinobu, General Manager of Nippon Express HK (right) shaking hands after the contract signing ceremony
Asia Airfreight Services Ltd. (AAS), a wholly owned subsidiary of Asia Airfreight Terminal Co Ltd (AAT), extends the heartiest welcome to a new business partner - Nippon Express (H.K.) Co., Ltd.
Nippon Express is the global and leading logistics services provider headquartered in Tokyo, Japan with an extensive international service network and worldwide infrastructure development covering Japan, America, Europe, East Asia, South Asia and Oceania. The partnership between AAS and Nippon Express aims to facilitate Nippon Express to set up a regional air cargo hub for moving their cargo shipments in the most efficient way, through effectively managing the entire supply chain.
AAS-Nippon Express's cooperation brings increased services integration and enhanced security capabilities for Nippon Express. AAS blends a more favorable designed infrastructure with state-of-the-art facilities, enhanced security measures, and advanced system and process automation. New high definition (HD) digital CCTV systems are applied for performing the highest level of on-site monitoring and supervision. The on-site traffic flow of trucks is well controlled, monitored and allocated by adopting an automation system called Truck Control System (TCS), which makes use of RFID (Radio Frequency Identification) technology for boosting the efficiency. A customized, high value-added and integrated cargo logistics solution is provided for handling the general, special and valuable cargoes, with the highest efficiency and quality. Together with a dedicated professional team from AAS, high quality, fast and reliable services are provided to satisfy the unique business requirements and future business expansion needs of Nippon Express. This partnership will elevate the overall business and operations processes into the next higher level, by going beyond the best practices.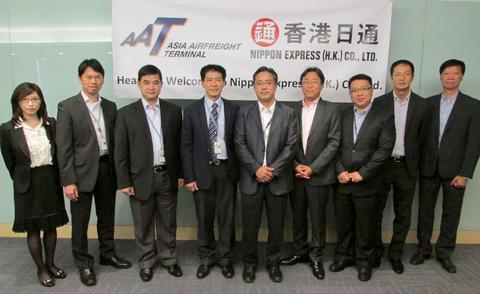 Representatives of AAT and Nippon Express HK at the contract signing ceremony
Mr Uriuda Yoshinobu, General Manager of Nippon Express HK, acknowledges AAS and says, "We are thankful for AAS's great effort and excellent collaboration. With the favorably designed and secure facilities, as well as the high quality services, we are confident that this partnership will bring the highest efficiency of operations and excellent services. We look forward to growing stronger by working together."
Mr Khaw Hock Eng, General Manager of AAT, responds, "We are excited and honored to be the long term business partner of Nippon Express. We will certainly ensure a successful cooperation and partnership between AAS and Nippon Express, and provide our best all-round support by working closely with Nippon Express. We are confident that together, we will grow stronger and bigger successfully."
 
-End-
Fact Sheet - AAT
Asia Airfreight Terminal Co., Ltd. (AAT) is the Air Cargo Terminal Operator (CTO) that provides total airfreight solutions in Hong Kong International Airport (HKIA). As a key link in the supply chain, we understand our dual role of raising the industry standards and increasing customer satisfaction. We are focused to invest in state-of-the-art facilities and establish stringent service standards. Ultimately, it is building strong lasting affinity with our customers that matters at AAT.
AAT has invested in state-of-the-art facilities, established stringent service standards and developed a user-friendly IT system to meet the high demands of the air logistics industry. AAT's web-based Cargo Management System (CMS) opens up a suite of e-cargo solutions to customers and users by fully integrating with government, airlines and other air cargo community systems. With over 400 employees, AAT's team of well-trained professionals has consistently exceeded the service standards set by the Airport Authority Hong Kong and its customers.
AAT has also put in place internationally recognized management systems, including ISO9001:2008 to ensure proper documentation of its procedures and continuous improvements in its processes. It has also implemented AHS1000 to set up a proper platform for its airline customers to feedback on its performance and to continuously improve its products and service delivery. Moreover, AAT has also been awarded Occupational Health and Safety Assessment Series (OHSAS) 18001:2007 for its continuous effort to improve the management systems for employees' health and safety. In addition, AAT has successfully certified as the Platinum Member of Cargo 2000 GHA and attained ISAGO Registration. In terms of security, AAT has attained the Transported Asset Protection Association (TAPA) Freight Security Requirements (FSR) Warehouse Classification A Certification, the Authorized Economic Operator (AEO) - the highest Tier 2 status of compliance to required security and safety standards accredited by Hong Kong Customs & Excise Department (the first Air Cargo Terminal Operator (CTO) in Hong Kong to attain such accreditation), and the EU Regulated Agent (RA3) status. AAT has also accomplished the Good Distribution Practices (GDP) Certification for Pharmaceutical Products, demonstrating AAT's commitment and determination to drive the industry standards forward.
For further information, please visit: www.aat.com.hk
Media enquiry:
Asia Airfreight Terminal Co., Ltd.
Marketing Manager
Tel: (852) 3187 6288
Fax: (852) 2215 0899
Email:commercial@aat.com.hk
Image: