AIMS Login
Shipment Tracking
AAT Attains "Good Distribution Practices Certification for Pharmaceutical Products"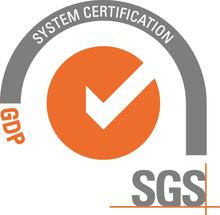 Asia Airfreight Terminal Co., Ltd. (AAT) has successfully attained the third new recognized certification this year - the "Good Distribution Practices (GDP) for Pharmaceutical Products" by SGS Hong Kong Limited (SGS) on 30 July 2014. AAT is in strict compliance with the GDP requirements set out by the World Health Organization (WHO) to handle pharmaceutical products.
In face of growing global airfreight of pharmaceutical products, AAT realizes that maintaining product quality and safety of pharmaceuticals in the supply chain is highly critical. In this regard, AAT has taken strong initiatives to adopt and follow the best practice of GDP guidelines and implement all requirements to exceed customers' expectations. GDP pharmaceutical regulations are internationally recognized for warehouses and distribution centers dedicated for pharmaceuticals. SGS has conducted a comprehensive onsite GDP assessment at AAT's terminal in Hong Kong International Airport, and AAT has been successfully certified for its satisfactory and full compliance with GDP standards and requirements.
To fulfill the stringent GDP requirements, AAT has strengthened its cool-chain facilities, processes and manpower in order to provide professional and sophisticated air cargo handling, logistics and storage services for pharmaceutical products that require stringent temperature control. Close monitoring and accurate temperature mapping are strongly put in place for preventing any temperature deviation and ensuring that a high quality, safe, stable and temperature-controlled environment is provided for customers.
Moreover, to enhance the efficiency of handling pharmaceutical products, AAT has assigned dedicated workstations, as well as truck docks for enabling the quickest movement of those temperature-sensitive inbound and outbound shipments. AAT's operations managers and staff are professionally trained with GDP standards and operational procedures, and equipped with good competency for special handling of the pharmaceutical products.
With the accreditation of GDP certification for pharmaceutical products, AAT becomes a vital partner in the healthcare supply chain by giving further quality assurance for customers. This further demonstrates AAT's commitment to delivering excellent service quality to their customers and pharmaceutical industry as a whole.
Mr Khaw Hock Eng, General Manager of AAT said, "GDP is the 3rd new recognized certification that AAT has successfully obtained in 2014. This certification follows right after the security-related accreditations of 'Authorized Economic Operator (AEO) - the highest Tier 2 status' in March (in which AAT is the first cargo terminal operator in HK to attain the AEO status), and the 'EU Regulated Agent (RA3)' in July. Maintaining the product quality and safety of pharmaceuticals during transportation and storage is of utmost importance in the healthcare supply chain. AAT has further boosted our quality management system for a safe, secure and reliable handling of temperature-controlled pharmaceutical products."
-End- 
Fact Sheet - AAT
Asia Airfreight Terminal Co., Ltd. (AAT) is the Cargo Terminal Operator (CTO) that provides total airfreight solutions in Hong Kong International Airport (HKIA). As a key link in the supply chain, we understand our dual role of raising the industry standards and increasing customer satisfaction. We are focused to invest in state-of-the-art facilities and establish stringent service standards. Ultimately, it is building strong lasting affinity with our customers that matters at AAT.
AAT has invested in state-of-the-art facilities, established stringent service standards and developed a user-friendly IT system to meet the high demands of the air logistics industry. AAT's web-based Cargo Management System (CMS) opens up a suite of e-cargo solutions to customers and users by fully integrating with government, airlines and other air cargo community systems. With over 400 employees, AAT's team of well-trained professionals has consistently exceeded the service standards set by the Airport Authority Hong Kong and its customers.
AAT has also put in place internationally recognized management systems, including ISO9001:2008 to ensure proper documentation of its procedures and continuous improvements in its processes. It has also implemented AHS1000 to set up a proper platform for its airline customers to feedback on its performance and to continuously improve its products and service delivery. Moreover, AAT has also been awarded Occupational Health and Safety Assessment Series (OHSAS) 18001:2007 for its continuous effort to improve the management systems for employees' health and safety. In addition, AAT has successfully certified as the Platinum Member of Cargo 2000 GHA and attained ISAGO Registration. In terms of security, AAT has attained the Transported Asset Protection Association (TAPA) Freight Security Requirements (FSR) Warehouse Classification A Certification, the Authorized Economic Operator (AEO) - the highest Tier 2 status of compliance to required security and safety standards accredited by Hong Kong Customs & Excise Department (the first Air Cargo Terminal Operator (CTO) in Hong Kong to attain such accreditation), and the EU Regulated Agent (RA3) status. AAT has also accomplished the Good Distribution Practices (GDP) Certification for Pharmaceutical Products, demonstrating AAT's commitment and determination to drive the industry standards forward.
For further information, please visit: www.aat.com.hk
Media enquiry:
Asia Airfreight Terminal Co., Ltd.
Marketing Manager
Tel: (852) 3187 6288
Fax: (852) 2215 0899
Email:commercial@aat.com.hk
Image: