AIMS Login
Shipment Tracking
AAT Top Achievements of Accreditations
The first Air Cargo Terminal Operator in HK to successfully renew the "TAPA Class A Certification" of enhanced FSR Standards (2014 Version)
AAT is the first Hong Kong Air Cargo Terminal Operator (CTO) who has successfully renewed the highest Classification Level A under the enhanced Freight Security Requirement (FSR) Standards (2014 Version) of Transported Asset Protection Association (TAPA) in November 2014 for a 3-year period.
The TAPA Certification is internationally recognized and widely considered as one of the most rigorous and independent logistics and supply chain security certifications. The TAPA certification process involves a wide range of stringent auditing, focusing on how the high-value cargo is securely handled throughout the global supply chain.
The enhanced TAPA FSR 2014 Standards has further tightened up security requirements and taken major changes in the certification program to meet the emerging security threats.
AAT fully understands and supports the increasing global concern for more stringent safety and security requirements in the air cargo industry. AAT has largely invested in a wider coverage of advanced and high definition (HD) CCTV systems and physical barriers, enhanced the security systems of intruder and panic alarms, as well as installation of time-out alarms system and record retrieval functions for performing the highest level of supervision and monitoring. Moreover, AAT's operations staffs are well trained in security standards, risk assessments and operating procedures. AAT's successful renewal of TAPA 'A' Certification under the enhanced FSR 2014 Standards brings enhanced security & efficiency for the high-value cargo into the next higher level.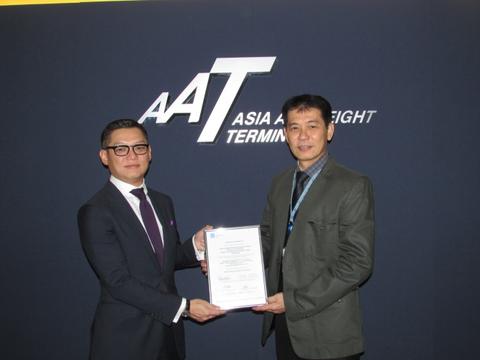 Mr Khaw Hock Eng, General Manager of AAT (right), represents AAT to receive the renewed TAPA Certification (2014 version) from Mr Jimmy Pang (left), HK Representative of TAPA.
AAT successfully renewed the ISAGO Certification
AAT has also successfully renewed the IATA Safety Audit for Ground Operations (ISAGO) Certification in November 2014 for a 2-year period, achieving the stringent ISAGO qualification criteria and satisfactory standards in ground support equipment management, staff training, safety and security measures, and process management. This further ensures enhanced operational safety and efficiency within the airport ground operations environment by minimizing ground accidents and the need for frequent audits by airlines on ground service providers.
Ms. Yvonne Ho, General Manager, Hong Kong of IATA, congratulated AAT on the successful renewal, "ISAGO is the industry's first global standard for the oversight and auditing of ground service providers. With this certification, AAT is among the rank of 157 ground service providers and has demonstrated its strong commitment to delivering safer ground operations."
Mr Khaw Hock Eng, General Manager of AAT, expressed, "AAT is proud to achieve successful renewals of both TAPA FSR Certification (Level A) and ISAGO Certification. Looking forward, AAT will continue to take all necessary steps to enhance our security & safety standards to always fulfill our core value pledge."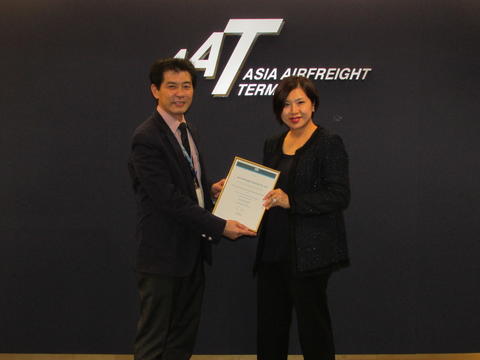 Mr Khaw Hock Eng, General Manager of AAT (left), represents AAT to receive the renewed ISAGO Certification from Ms Yvonne Ho, General Manager, Hong Kong of IATA (right).
-- End --
 
Fact Sheet - AAT
Asia Airfreight Terminal Co., Ltd. (AAT) is the Air Cargo Terminal Operator (CTO) that provides total airfreight solutions in Hong Kong International Airport (HKIA). As a key link in the supply chain, we understand our dual role of raising the industry standards and increasing customer satisfaction. We are focused to invest in state-of-the-art facilities and establish stringent service standards. Ultimately, it is building strong lasting affinity with our customers that matters at AAT.
AAT has invested in state-of-the-art facilities, established stringent service standards and developed a user-friendly IT system to meet the high demands of the air logistics industry. AAT's web-based Cargo Management System (CMS) opens up a suite of e-cargo solutions to customers and users by fully integrating with government, airlines and other air cargo community systems. With over 400 employees, AAT's team of well-trained professionals has consistently exceeded the service standards set by the Airport Authority Hong Kong and its customers.
AAT has also put in place internationally recognized management systems, including ISO9001:2008 to ensure proper documentation of its procedures and continuous improvements in its processes. It has also implemented AHS1000 to set up a proper platform for its airline customers to feedback on its performance and to continuously improve its products and service delivery. Moreover, AAT has also been awarded Occupational Health and Safety Assessment Series (OHSAS) 18001:2007 for its continuous effort to improve the management systems for employees' health and safety. In addition, AAT has successfully certified as the Platinum Member of Cargo 2000 GHA and attained ISAGO Registration. In terms of security, AAT has attained the Transported Asset Protection Association (TAPA) Freight Security Requirements (FSR) Warehouse Classification A Certification (2014 Version), the Authorized Economic Operator (AEO) - the highest Tier 2 status of compliance to required security and safety standards accredited by Hong Kong Customs & Excise Department (the first Air Cargo Terminal Operator (CTO) in Hong Kong to attain such accreditation), and the EU Regulated Agent (RA3) status. AAT has also accomplished the Good Distribution Practices (GDP) Certification for Pharmaceutical Products, demonstrating AAT's commitment and determination to drive the industry standards forward.
For further information, please visit: http://www.aat.com.hk/
Media enquiry:
Asia Airfreight Terminal Co. Ltd.
Marketing Manager
Tel: (852) 3187 6288
Fax: (852) 2215 0899
Email:commercial@aat.com.hk
Image: