AIMS Login
Shipment Tracking
AAT Celebrates its Crystal Jubilee
Commemorating the 15th Anniversary, Asia Airfreight Terminal Co Ltd (AAT) held a Celebration Gala Dinner at The Ritz-Carlton, Hong Kong on 26 July 2013. Over 100 distinguished guests from airline customers, business partners and government authorities, were hosted by AAT Board Members and management team to celebrate the grand milestone occasion.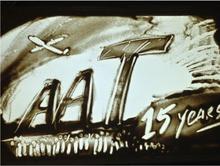 The celebratory night was unveiled with a fascinating sand art performance which vividly depicted AAT's 15-year robust development and growth with our customers. The guests were toasted amidst glittering confetti in the air and they were treated to a scrumptious dinner and entertainment such as a dazzling magic show.
AAT also took this opportunity to hand out special accolades to honour 16 airlines in recognition of their long time partnership and support. Among them, 9 airlines were honoured with "Pioneering Partner Award" marking their 15-year partnership with AAT while 7 airlines were honoured with "Long Partnership Award" for their partnership with AAT for more than 10 years. In his address, Executive Director of AAT Mr Leong Kok Hong said, "We would also like to thank our airline customers, business partners and government authorities for their strong and crucial support all these years. Our work would have been impossible without your staunch backing. Besides, it is our unwavering commitment to enhance HKIA's status as a vibrant air cargo hub in the world. We recognize that AAT has an instrumental role to play at HKIA and will continue to stay creative and innovative, constantly looking for different ways to deliver exceptional quality products and services."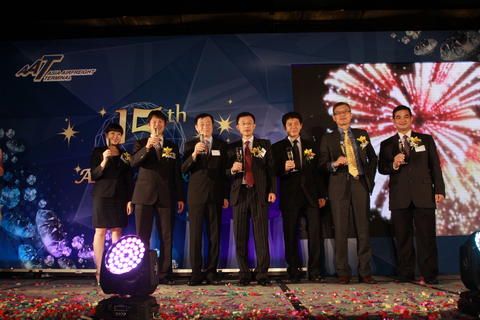 - End -
Fact Sheet - AAT
Asia Airfreight Terminal Co., Ltd. (AAT) is a cargo terminal operator that provides total airfreight solutions in Hong Kong International Airport (HKIA). As a key link in the supply chain, we understand our dual role of raising the industry standards, and increasing customer satisfaction. We are focused to invest in state-of-the-art facilities and establish stringent service standards. Ultimately, it is building strong lasting affinity with our customers that matters at AAT.
AAT had invested in state-of-the-art facilities, established stringent service standards and developed a user-friendly IT system to meet the high demands of the air logistics industry. AAT's web-based Cargo Management System (CMS) opens up a suite of e-cargo solutions to customers and users by fully integrating with government, airlines and other air cargo community systems. With over 400 employees, AAT's team of well-trained professionals has consistently exceeded the service standards set by the Airport Authority Hong Kong and its customers.
AAT has also put in place internationally recognized management systems, including ISO9001:2008 to ensure proper documentation of its procedures and continuous improvements in its processes. It has also implemented AHM804 and AHS1000 to set up a proper platform for its airline customers to feedback on its performance and to continuously improve its products and service delivery. It has also achieved Occupational Health and Safety Assessment Series (OHSAS) 18001 and the Technology Asset Protection Association (TAPA) Class A Certification in recognition of its continuous effort to improve its management systems for employees' health and safety, and cargo security respectively.
For further information, please visit: http://www.aat.com.hk/
Media enquiry:
Asia Airfreight Terminal Co., Ltd.
Marketing Manager
Tel: (852) 3187 6288
Fax: (852) 2215 0899
Email: commercial@aat.com.hk
Image: