AIMS Login
Shipment Tracking
AAT Launches Enhanced Mobile APP
AAT understands the airfreight industry"s needs, values the customer feedback, and continues to innovate for the benefit of the customers and community. AAT is proud to launch the enhanced mobile app - "AAT Mobile"! This mobile app contains enhanced features not found in the previous version. Terminal users with smartphones can now enjoy a next level of shipment tracking anytime, anywhere!
Asia Airfreight Terminal Co. Ltd. (AAT) is the first Air Cargo Terminal Operator (CTO) at the Hong Kong International Airport (HKIA) to launch mobile apps for customers and partners in 2011. "AAT Mobile" and "AAT Mobile Plus" offered airlines, cargo agents, shippers, and consignees more convenient alternatives besides the telephone hotline and web portal to access flight and shipment status. Valuable user feedback over the years allowed AAT to develop two new key features for the mobile app - "AAT Mobile": the "Smart Storage Charge Calculator", and the friendly "Pop up Reminder Notification" for shipment collection, to greatly facilitate the management of import cargo collection time.
Smart Storage Charge Calculator
The new "Smart Storage Charge Calculator" function allows terminal users to check prior to cargo collection whether their import shipments are still enjoying free storage. Otherwise, a simple finger tap will calculate and provide the up-to-date charge.
Friendly Pop-up Reminder Notification
Meanwhile, the "Push Notification" function works as a friendly pop up reminder when the import cargo is ready for collection, as well as when any service enhancement from AAT is launched.
New Interactive Site Map
This new mobile app is re-designed with a new, refreshing, interactive site map which
allows users even easier access to real-time information.
"AAT is a pioneer in the industry to launch the mobile app, and these new enhancements are again our innovations to delight customers and facilitate the air cargo community." said Mr. Khaw Hock Eng, General Manager of AAT. "We will always continue to drive for the highest level of customer satisfaction and service excellence through innovative products and services solutions."
The enhanced mobile app - "AAT Mobile" is newly available for download at the Apple App Store and Google Play Store.
Moreover, an enhanced version for "AAT Mobile Plus" - specially designed for AAT"s airline customers with the unique ULD inventory management function, will be launched soon in the coming months. Stay tuned!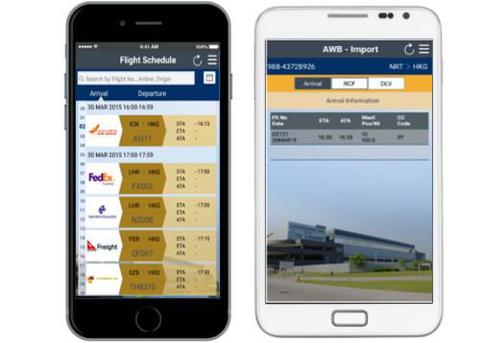 -- End -- 
 
Fact Sheet - AAT
Asia Airfreight Terminal Co., Ltd. (AAT) is the Air Cargo Terminal Operator (CTO) that provides total airfreight solutions in Hong Kong International Airport (HKIA). As a key link in the supply chain, we understand our dual role of raising the industry standards and increasing customer satisfaction. We are focused to invest in state-of-the-art facilities and establish stringent service standards. Ultimately, it is building strong lasting affinity with our customers that matters at AAT.
AAT has invested in state-of-the-art facilities, established stringent service standards and developed a user-friendly IT system to meet the high demands of the air logistics industry. AAT"s web-based Cargo Management System (CMS) opens up a suite of e-cargo solutions to customers and users by fully integrating with government, airlines and other air cargo community systems. With over 400 employees, AAT"s team of well-trained professionals has consistently exceeded the service standards set by the Airport Authority Hong Kong and its customers.
AAT has also put in place internationally recognized management systems, including ISO9001:2008 to ensure proper documentation of its procedures and continuous improvements in its processes. It has also implemented AHS1000 to set up a proper platform for its airline customers to feedback on its performance and to continuously improve its products and service delivery. Moreover, AAT has also been awarded Occupational Health and Safety Assessment Series (OHSAS) 18001:2007 for its continuous effort to improve the management systems for employees" health and safety. In addition, AAT has successfully certified as the Platinum Member of Cargo 2000 GHA and attained ISAGO Registration. In terms of security, AAT has attained the Transported Asset Protection Association (TAPA) Freight Security Requirements (FSR) Warehouse Classification A Certification (enhanced 2014 Version), the Authorized Economic Operator (AEO) - the highest Tier 2 status of compliance to required security and safety standards accredited by Hong Kong Customs & Excise Department (the first Air Cargo Terminal Operator (CTO) in Hong Kong to attain such accreditation), and the EU Regulated Agent (RA3) status. AAT has also accomplished the Good Distribution Practices (GDP) Certification for Pharmaceutical Products, demonstrating AAT"s commitment and determination to drive the industry standards forward.
For further information, please visit: http://www.aat.com.hk/
Media enquiry:
Asia Airfreight Terminal Co., Ltd.
Marketing Manager
Tel: (852) 3187 6288
Fax: (852) 2215 0899
Email:commercial@aat.com.hk

 

 
Image: