AIMS Login
Shipment Tracking
AAT wins the Hong Kong Awards for Environmental Excellence (Silver) for Two Consecutive Years
Asia Airfreight Terminal (AAT) is pleased to announce that it has received the Hong Kong Awards for Environmental Excellence (HKAEE) Sectoral Award – Transport and Logistics Silver Award for the second year running. The award ceremony was held on 4 May 2012 at Hong Kong Convention and Exhibition Centre, officiated by Mr. Donald Tsang, Chief Executive of the Hong Kong Special Administrative Region.
The HKAEE Sectoral Awards was organized by the Environmental Campaign Committee to recognize organizations in 11 sectors for their outstanding environmental performance. The assessment criteria are Green Leadership, Programmes & Performance and Partner Synergy.
Mr. Chan Yee Lin, General Manager of AAT received the award from Professor Lap-Chee Tsui and expressed his gratitude, "It is indeed a great honour for AAT to be awarded the HKAEE Sectoral Silver Award for two consecutive years. We will continue in our efforts to implement the various "green" initiatives and achieve greater success in carbon reduction. "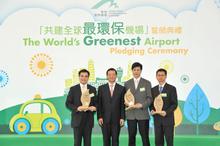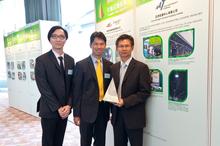 - End -
 
Fact Sheet - AAT 
Asia Airfreight Terminal Co., Ltd. (AAT) is a cargo terminal operator that provides total airfreight solutions in Hong Kong International Airport (HKIA). As a key link in the supply chain, we understand our dual role of raising the industry standards, and increasing customer satisfaction. We are focused to invest in state-of-the-art facilities and establish stringent service standards. Ultimately, it is building strong lasting affinity with our customers that matters at AAT.
AAT had invested in state-of-the-art facilities, established stringent service standards and developed a user-friendly IT system to meet the high demands of the air logistics industry. AAT's web-based Cargo Management System (CMS) opens up a suite of e-cargo solutions to customers and users by fully integrating with government, airlines and other air cargo community systems. With over 400 employees, AAT's team of well-trained professionals has consistently exceeded the service standards set by the Airport Authority Hong Kong and its customers.
AAT has also put in place internationally recognized management systems, including ISO9001:2008 to ensure proper documentation of its procedures and continuous improvements in its processes. It has also implemented AHM804 and AHS1000 to set up a proper platform for its airline customers to feedback on its performance and to continuously improve its products and service delivery. It has also achieved Occupational Health and Safety Assessment Series (OHSAS) 18001 and the Technology Asset Protection Association (TAPA) Class A Certification in recognition of its continuous effort to improve its management systems for employees' health and safety, and cargo security respectively.
For further information, please visit its corporate website:http://www.aat.com.hk/
Media enquiry: 
Asia Airfreight Terminal Co., Ltd. 
Marketing Manager 
Tel: (852) 3187 6288
Fax: (852) 2215 0899 
Email: commercial@aat.com.hk
Image: