AIMS Login
Shipment Tracking
ASIA AIRFREIGHT TERMINAL - FIRST CARGO TERMINAL OPERATOR IN HONG KONG TO ACHIEVE IATA LITHIUM BATTERY CERTIFICATION
Hong Kong, 29 September 2022 – Asia Airfreight Terminal Co. Ltd. (AAT) became the first Cargo Terminal Operator in Hong Kong to attain the Centre of Excellence for Independent Validators Lithium Batteries (CEIV Li-batt) certification by the International Air Transport Association (IATA). The CEIV Li-batt certification programme establishes baseline standards to improve competency and quality management in the handling and carriage of lithium batteries, alone or with finished products, along the supply chain.
AAT crossed this milestone together with its parent company SATS Ltd. (SATS) – Asia's leading provider of food solutions and gateway services. As a Group, SATS is the first ground handling agent in the world to attain the IATA certification.
Kuah Boon Kiam, Chief Executive Officer, AAT, said, "We are honoured that AAT is the first cargo terminal operator in Hong Kong to obtain IATA CEIV Li-batt certification. This clearly recognizes AAT's efforts and commitment to the highest service standards and operational excellence in handling lithium batteries. This certification highlights our capabilities to handle finished products or components with lithium batteries safely and reliably. It strengthens the confidence of our customers in our ability to handle all types of special cargo."
"We congratulate AAT in becoming one of the first ground handling companies to achieve CEIV Li-batt certification. Carrying products containing lithium batteries is a growing market for air cargo. Ensuring that these are flown safely and securely is critical. This new certification will give AAT's customers even more confidence that their consignments containing lithium batteries are being transported efficiently and reliably." said Brendan Sullivan, IATA's Global Head of Cargo.
Rogue lithium battery shipments that could endanger aircraft and passengers remain a pressing issue amid continued increase in air trade volumes. As a key line of defence against such threats, the SATS Group mitigates risks by validating the compliance of regulations for dangerous goods consignments and storing them safely in a dedicated holding area. In addition, trained personnel are empowered to stop potentially non-compliant shipments for further inspection.
In AAT, lithium batteries are handled with a strict compliance to aviation safety and security requirements and industry best practices. Our dedicated Inspection Counter for Dangerous Goods & Lithium Batteries is manned by our professional staff to ensure accepted shipments are ready for carriage in conformance with IATA Dangerous Goods Regulations (DGR) and IATA Lithium Battery Shipping Regulations (LBSR). Our Cargo Management System (CMS) has enhanced functions to help identify suspected undeclared or mis-declared lithium battery shipments during the document acceptance process. AAT remains at the forefront to introduce new services to the air cargo industry in response to the increasing global security concern.
SATS, AAT and PT JAS were conferred their CEIV Li-batt certificates at IATA's prestigious air transport cargo event World Cargo Symposium 2022. The certification will remain in effect for two years.
For more information on IATA's CEIV Li-batt certification, please visit www.iata.org/en/programs/cargo/dgr/ceiv-lithium-battery/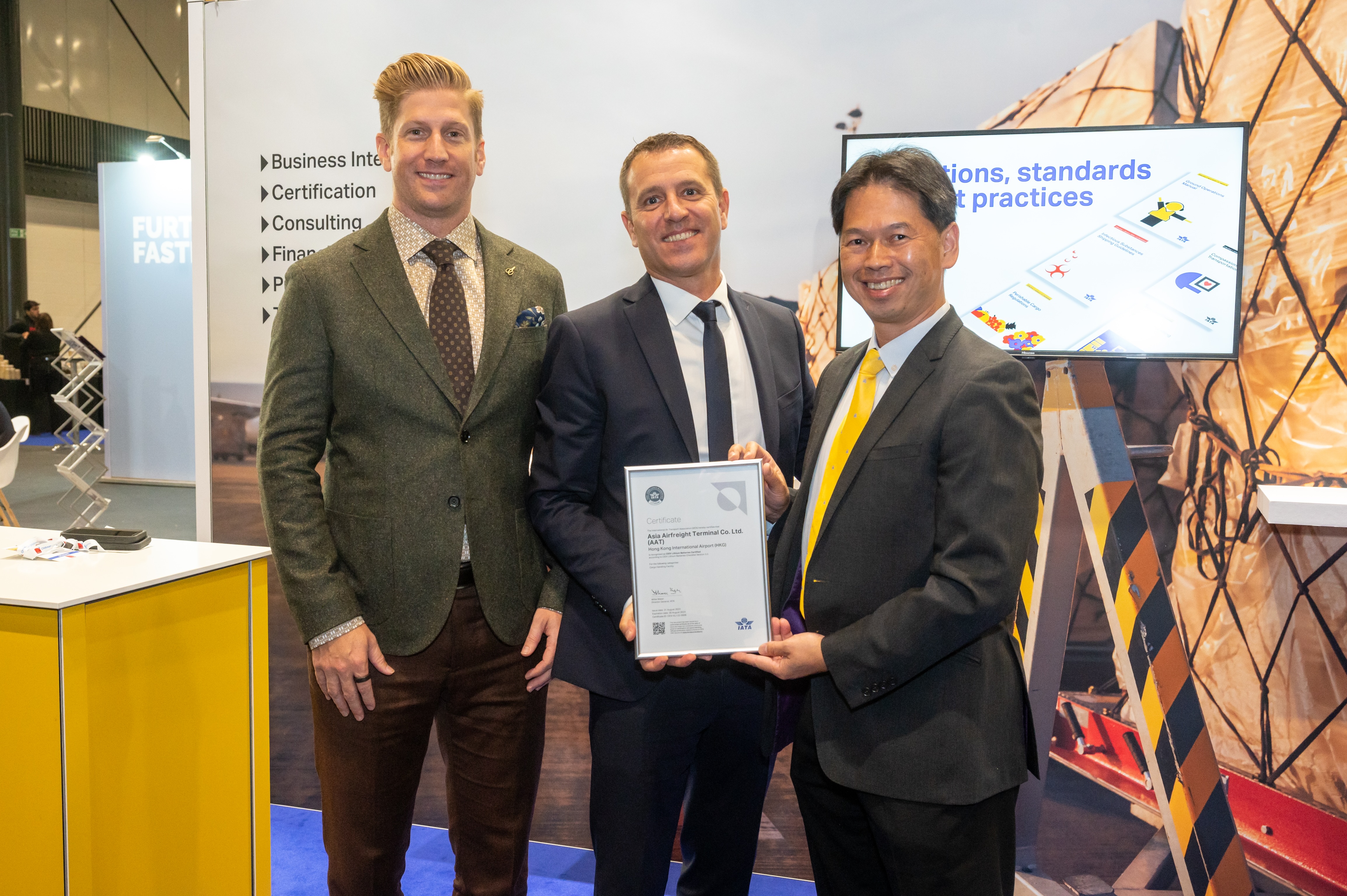 Ir. Stewart Chun, Chief Technology Officer of Asia Airfreight Terminal receives IATA CEIV Li-Batt certification at IATA World Cargo Symposium 2022]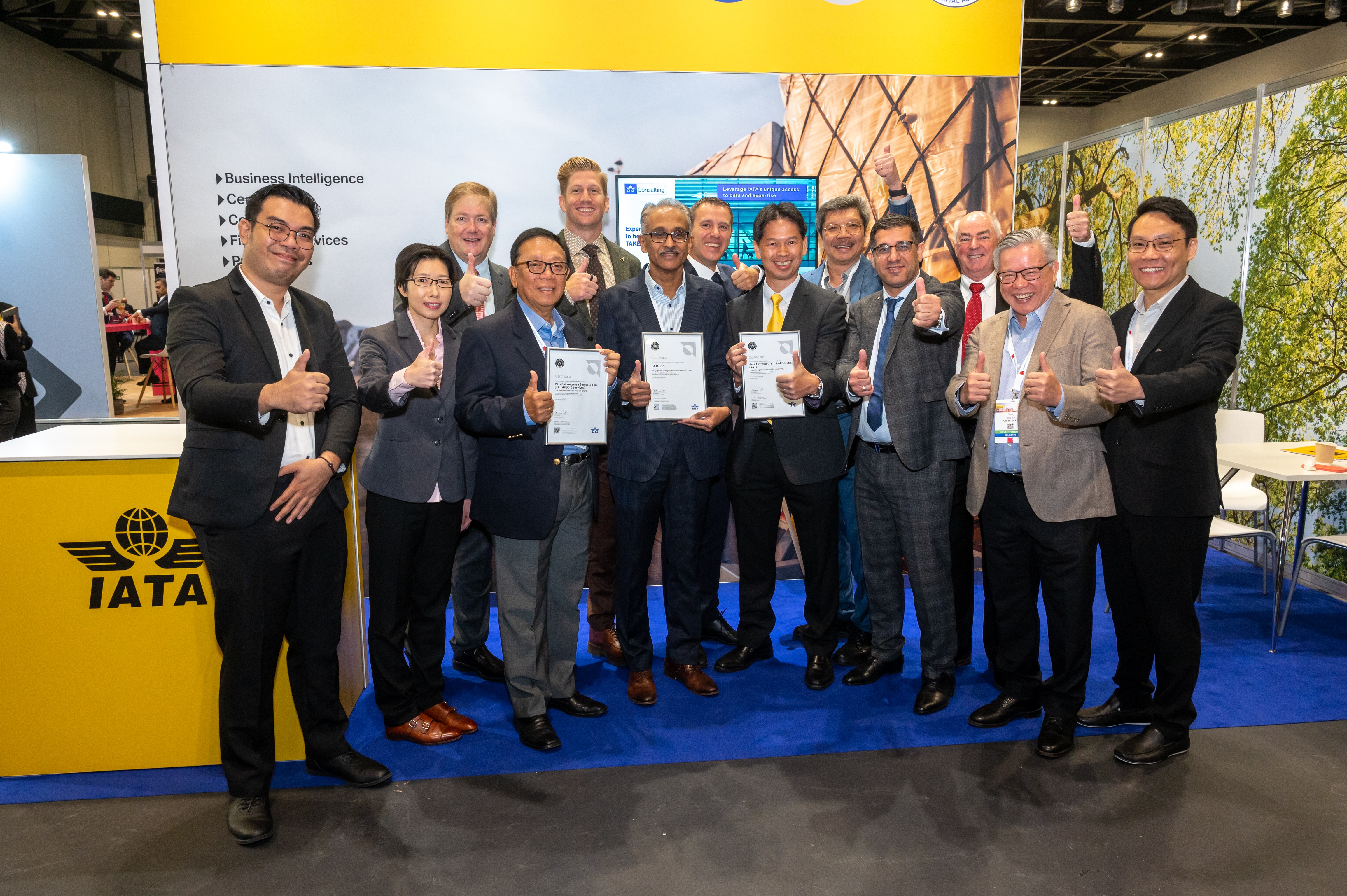 Teams of SATS, Asia Airfreight Terminal and PT JAS received IATA CEIV Li-Batt certifications at IATA World Cargo Symposium 2022
ABOUT ASIA AIRFREIGHT TERMINAL CO. LTD.
Asia Airfreight Terminal Co. Ltd., a franchised Air Cargo Terminal Operator in Hong Kong, has been playing a significant role in the development of Hong Kong International Airport as the world's largest international air cargo hub with dedication, innovation and investment. AAT has served the world's leading airlines by offering a comprehensive range of quality services from physical cargo handling to documentation processing. An attitude towards excellence coupled with the best state-of-the-art facilities, technological innovation, sophisticated management, and a well-trained team of cargo professionals ensure our customers will always enjoy the highest level of service from AAT. For more information, please visit http://www.aat.com.hk.
MEDIA CONTACT
Enquiry Hotline: +852 2949 7738
Contact Email:     commercial@aat.com.hk