AIMS Login
Shipment Tracking
Asia Airfreight Terminal Wins Again Sustainable Warehouse Operator of the Year Award
Hong Kong, 13 June 2023 - Asia Airfreight Terminal (AAT) is thrilled to announce that we have been named the "Sustainable Warehouse Operator of the Year 2023" by Freightweek Sustainability Awards for the second year in a row. This prestigious award recognizes our dedication to sustainability and ongoing efforts to drive positive environmental change within the logistics industry.
AAT places an absolute priority on sustainability and strives to operate in a sustainable manner. Since 2008, we have achieved a 50% reduction in our carbon footprint through various green initiatives, such as switching 95% of our work vehicles to run on electricity with the setup of on-site charging stations, retrofitting the warehouse with LED lighting, and adopting solar-powered LED lights in outdoor areas.  Our recent launch of AAT COOLPORT, the first on-airport cold chain facility with a complete temperature-controlled environment, is also built with sustainability in mind.COOLPORT features non-ozone depleting refrigerants offering a low global warming potential (GWP), double doors, air curtains, speed doors, and thermal insulation panels. All are purpose-designed and built to minimize heat loss to achieve energy savings.
Mr. Richard Broom, CEO of Freightweek commended AAT for demonstrating a commitment to sustainable operations across all aspects of the organization. "Freightweek has been promoting sustainability within the logistics industry for over a decade. The prestigious Freightweek Sustainability Awards recognize the very best. Congratulations to AAT for winning the Sustainable Warehouse Operator of the Year 2023 award."
Mr. Mike Chew, CEO of AAT, expressed his gratitude for the recognition and praised his team's dedication to implementing sustainable practices across their operations. "We extend our gratitude to all our customers and business partners whose votes and support have been instrumental in enabling us to attain this accomplishment. We are delighted to receive this honor, which acknowledges our team's commitment to sustainability. Our company has made significant progress towards reducing our carbon footprint through various initiatives, and we can assure our customers that we will continue to provide efficient and sustainable logistics solutions while minimizing our carbon footprint.
In addition, AAT has also received the "Wastewi$e" Certification (Excellent Level) and "Energywi$e" Certification (Excellent Level) from Hong Kong Green Organization Certification (HKGOC) for the ninth consecutive year. We firmly believe that sustainable practices are the key to a better future for our planet, and we are committed to continuing our efforts to create a more sustainable world.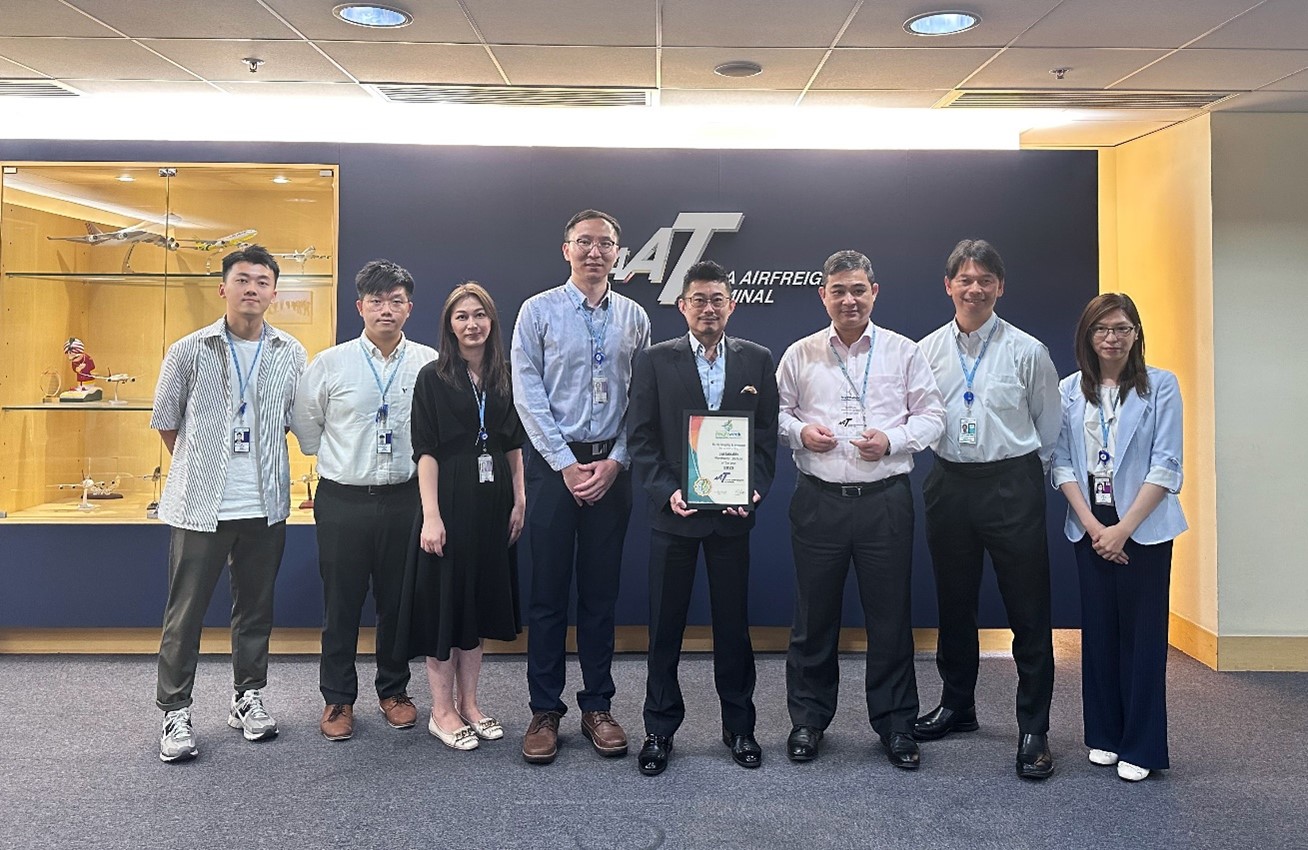 AAT team is honoured to achieve the prestigious sustainability award for the second year in arow
-- End --
ABOUT ASIA AIRFREIGHT TERMINAL CO. LTD.
Asia Airfreight Terminal Co. Ltd., a franchised Air Cargo Terminal Operator in Hong Kong, has been playing a significant role in the development of Hong Kong International Airport as the world's largest international air cargo hub with dedication, innovation and investment. AAT has served the world's leading airlines by offering a comprehensive range of quality services from physical cargo handling to documentation processing. An attitude towards excellence coupled with the best state-of-the-art facilities, technological innovation, sophisticated management, and a well-trained team of cargo professionals ensure our customers will always enjoy the highest level of service from AAT. For more information, please visit http://www.aat.com.hk or follow us @Asia Airfreight Terminal on LinkedIn.
MEDIA CONTACT
Enquiry Hotline: +852 2949 7738
Contact Email: commercial@aat.com.hk