Dear Valued Customers,
We are pleased to announce that AAT has set up an upstream bonded cargo handling facility, AAT Dongguan (AATDG), at the pilot scheme facility for Hong Kong International Airport Logistics Park (HKIALP) in Dongguan, China. Operating since 7 May 2023, AATDG enables air cargo to be accepted at Dongguan under the sea-air intermodal handling process.
The intermodal cargo operation is fully compliant with Hong Kong's air cargo security regulations, offering security screening, build-up and acceptance of air cargo in upstream at AATDG, enabling exports from the Greater Bay Area (GBA) to be carried straight to the secured pier of HKIA by sea for air transhipment to worldwide destinations.
The upstream acceptance services greatly enhance the time efficiency and cost effectiveness of cargo transhipment services for the GBA, while also providing a great opportunity to further develop the important regional market and highlighting the strength of Hong Kong as one of the world's leading air cargo logistics hubs.
The new initiative demonstrates AAT's ongoing commitment to provide customers with total airfreight solutions.
Follow our Linkedin page Asia Airfreight Terminal to stay ahead with our updates and news.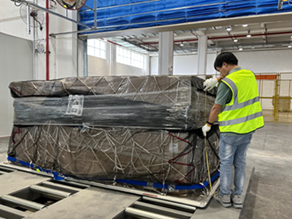 Cargo acceptance is being processed by the AATDG operation team.
Yours sincerely,
Asia Airfreight Terminal Co. Ltd