AIMS Login
Shipment Tracking
AAT establishes service partnership with Jetstar Pacific
Asia Airfreight Terminal Co. Ltd. (AAT) is pleased to announce that it has established service partnership with one of the leading low cost airlines, Jetstar Pacific, the Jetstar Group airline based in Vietnam.
AAT secured a multi-year cargo handling contract from Jetstar Pacific in September 2015. AAT has commenced the provision of cargo handling services to Jetstar Pacific in Hong Kong International Airport (HKIA) from 7 September 2015. Jetstar Pacific operates four times weekly services between Hanoi and Hong Kong with Airbus 320 aircraft.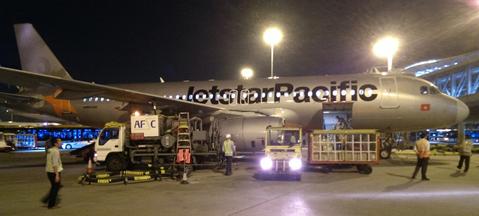 The inaugural flight of Jetstar Pacific between Hanoi and Hong Kong on 7 September 2015
Mr. Khaw Hock Eng, General Manager of AAT was delighted to welcome Jetstar Pacific to AAT and extended best wishes to Jetstar Pacific on their significant expansion in Hong Kong. AAT values the partnership and is committed to providing excellent services to Jetstar Pacific.
A franchised Air Cargo Terminal Operator with over 17 years of experiences in HKIA, AAT has extensive wealth of knowledge and experience to handle the world's leading air cargo carriers. It is now serving more than 60 international airlines from around the world.
-- End -- 
Image: